Cloud Hosted Multi-Factor Authentication
Sensitive Data Behind Step-up
Your users can login with their preferred Social Login and step-up with 2-factor or eID when accessing personal and sensitive data.
eID Verified Social Logins
Get to know your users whilst offering them full convenience, Ceptor Login combines the user-friendliness of Social Logins with the security of national eID's.
Flexible Account Linking
With Ceptor Login you can allow your users to link their social accounts, which allows you to take advantage of their existing data.
Authentication as a Service

Add cloud hosted multi-factor authentication and user management to your online applications and focus on your core business.

Easy Implementation

Just embed our JavaScript and connect your application using OpenID Connect

User Enrollment

Use Ceptor Logins intuitive user registration flows or allow self-service registration with social logins or NemID.

Need More Features?

The Ceptor Login Team is ready to implement any features you may need to support your business.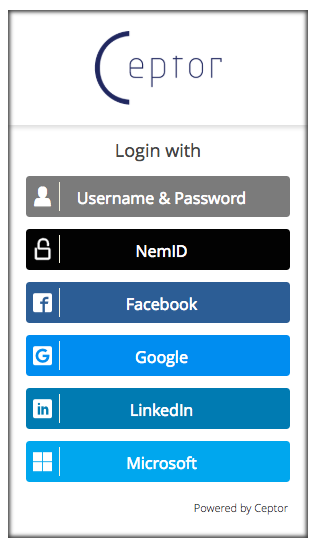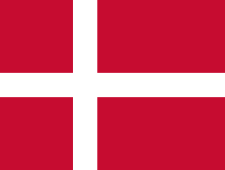 Designed, Developed & Supported in Denmark
Simple Integration using
Use the registration form to request your Demo of Ceptor Login
Ceptor Login is a cloud hosted Multi-Factor Authentication solution that allows you to choose your preferred authentication methods for your online business application.
Ceptor Login provide the security you need and is easily enabled using OpenID Connect.
Ceptor Login is offered as a standalone Software as a Service – SaaS, or together with the On-Premise version of Ceptor.
On this page you can request a Demo of Ceptor Login that currently supports:
Danish NemID
Google Authenticator
Microsoft Authenticator
SMS OTP
Social Login (OpenID Connect) supporting:
Facebook, Google, Microsoft & LinkedIn
Additional national electronic identification solutions will be added. Next is the Swedish BankID solution.
This Demo will introduce you to the integration and administration of Ceptor Login.